Feel free to send your feedback or ask some help here!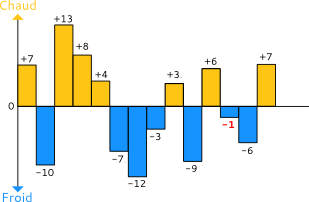 Bonjour,
Je pense qu'il y a un bug pour ce problème au niveau des succès.
J'ai en effet soumis deux fois un code passant 100 % des tests, mais dans les deux cas, je n'ai pas eu les succès "50%" et "100%" pourtant repertoriés dans la liste des succès accessibles.
Hello,
Il y a actuellement un bug qui fait que les achievements ne s'affichent pas forcèment en temps réel dans le rapport. Mais normalement ils finissent toujours par arriver en moins d'une minute.
Est-ce le cas ? (Profile -> Dernier succès -> Tout afficher)
Tous les succès pour les problèmes précédents ont bien été affichés dans la liste des derniers succès ainsi que dans la liste de tous les succès, seuls les succès du problème température n'apparaissent nul part.
Vu la forme du problème, peut-être que l'ancienneté de celui-ci fait qu'il n'ait pas été integré de la manière dans le système? Je vais voir si c'est le cas d' "Ascii Art" aussi.
Edit: Même problème pour Ascii Art, j'ai soumis un code ayant un score de 90 % il y a 5 minutes, qui n'a pas obtenu de succès depuis, et viens de soumettre un code avec un score de 100%, sans succès là aussi.
Effectivement, on regarde…
En ce qui me concerne, J'ai essayé et obtenu le succès 100% trois puzzle facile (ascii art, température et chuck norris), mais aucun des 6 succès individuels à ces(les trois 50% et les trois 100% qui correspondent)
Attention : le squelette PHP pour ce problème ne fonctionne pas. Contrairement à C/C++, chaque appel à la fonction fscanf en PHP va faire passer le pointeur à la ligne suivante. Le code lit donc la première valeur de la ligne des températures puis plus rien.
Une possibilité pour contourner ce problème est de faire un explode(' ', fgets(STDIN)) pour avoir un tableau avec toutes les températures.
C'est fixé. Renvoyez votre code pour les exos de type in/out et vous obtiendrez les achievements…
Hello Martin,
En fait, il n'y a pas de génération de squelette de code pour les exos de type in.txt / out.txt. La génération se fait seulement sur les exos "graphiques" comme "Le pouvoir de Thor"…
La fonctionnalité arrive bientôt pour les exos in.txt / out.txt…
Je confirme, ça marche maintenant
Et gros +1 pour la sauvegarde des codes soumis
@FredTreg: il y avait bien un squelette généré hier soir au moment où j'ai posté, même s'il a été supprimé depuis. Cela dit, ma remarque reste valable dans le sens où il faut se méfier de fscanf en PHP.
Hi,
I think, you should add two test cases.
Test case, that check validation
(for instance, if the temperatures are -5 to 5, then display 5
What if, in input stream will be temperature equel "0".
I suppose, it should be showed as 0 - the same, as non temperature ?
When i put the same code in Eclipse it gives me correct results. It tells me all the time that the code cannot handle with all negative numbers, but this is the output from Eclipse.
2
-10 -10
10
5
-15 -7 -9 -14 -12
7
All the other test cases pass.
Hi there, I only see 3 tests in that puzzle, but when submitting it shows 3 additionnal tests and they fail. So first why those tests are not visible before ? And then, if I do the puzzle in C++, it seems to be impossible to solve those tests : The expected output is a negative number but when putting a negative number I get : Fail
Found: "-". So basically it seems to only get the first char…
The answer is compared char by char so it reports the first incorrect char. As none of the IDE tests are expecting a negative number, they will fail as soon as the "-" is read.
Anway, validation tests are (almost) never the same than IDE ones, to avoid hardcoding answers. Your code must be able to give a correct answer whatever the values are. If it failed one or several of these validation tests, then there's a bug somewhere in your code.
Thanks for the answer, but what do you mean by "IDE tests" and "validation tests" ?
IDE tests are the ones you can execute while coding. Validation tests are the ones executed after sending your code, which will give you a score.
Hi,
I'm afraid there is something wrong with test case 3 on Java:
it always return:
Exception in thread "main" java.util.NoSuchElementException: No line found

at java.util.Scanner.nextLine on line 1585
at Solution.main on line 15
Fail
Found: Nothing
Expected: "0"
which seems to be a bug
Hello I think in Python3 there is something weird in the original code :
TEMPS = input()

This does not work in the third case with no temperature. And there is only 3 cases when we submit there are several more cases which are not convenient to debug without the given input.
Hey, I resolved this puzzle and it works correctly on the IDE I have on my computer but doesn't work on the codinGame IDE. It displays as output :
0
Fail
Found: "0"
Expected: "1"