I don't know if this could be considered a bug, but it's causing me some errors when calculating future positions of the actors (in this case, Zombies). Check this example:
From this:

To this: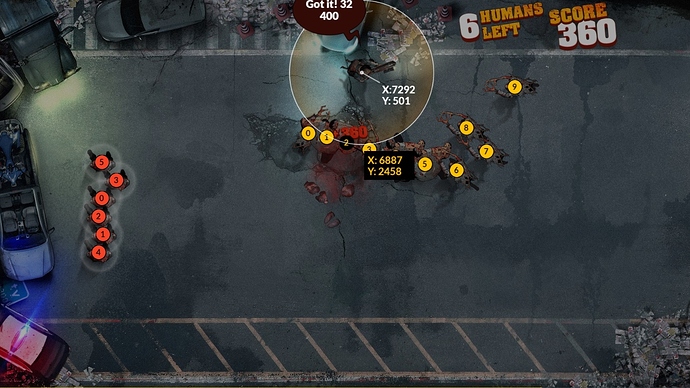 I am calculating the Zombie #2 new position as (6887,2459) which means the Zombie advances 399.3018908 units, but the system calculates the new position (as shown in the second image) as (6887,2458) which is a distance of 400.2811512 which is larger than the Zombie step size of 400 (you can also check this graphically at https://ggbm.at/FJNfnzve The line is a vector of length 400 with origin at (6806,2850)
This small (1 unit) difference causes my logic to think that the Zombie is still alive (according to my calculations) but the system reported new state considers the Zombie as death (as shown in the image) which in turn breaks all my future predictions.
Rounding causes lots of problems in this cases, mainly because the direction of the vector can and will affect the rounding direction. Maybe CG could share a standard algorithm so anyone can calculate this new position congruent with the system, so this won't happen?
Thanks,
Oscar Nava aka "Monstruo"