Legend 158
Thank you to CodinGame for running this competition! I've been looking forward to this for a year.
My strategy was to gather resources close to the mob spawn locations for the first 50 moves of the game and then switch to one defender and two attackers.
My defender would run simulations 12 moves into the future to decide whether a mob could be killed or whether WIND was needed. There was also some logic for self-shielding, for forcing enemies away, and for attempting to eject mobs off the map if there were too many of them. My heroes would move to an intercept location when heading towards a mob to minimize the number of turns it would take to attack it. This worked even if the intercept point was after the mob was redirected upon entering my base.
My attackers would seek to redirect 4 mobs to the edge of the enemy base and then WIND plus double WIND them into the enemy base as quickly as possible. I had my bot output some graphics locally while I was building this which I think illustrate the math nicely. Basically for each mob I looked to see if there was a point on a circle 2200 pixels (WIND distance) from the mob that was within 2700 pixels (2200 * 2 + 300 or guaranteed damage distance) of the enemy base and also within 1280 pixels (WIND spell radius) of at least 2 of my heroes. Since this results in a line, I'd pick the point closest to the edge of the map. This allowed me to guarantee a goal so long as my opponent didn't interfere.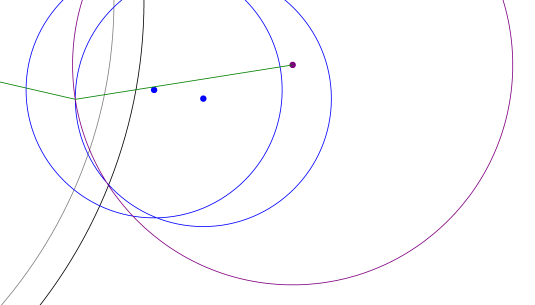 Overall this was a very fun competition. The thing I liked least is how overloaded the servers seemed to constantly be throughout the competition, and especially during league promotions. I know servers cost money and the competition is free, and I don't know how scalable CG's infrastructure is, but in the future I'd love to see more computational power even if it means crowdfunding the costs or bringing on corporate sponsors.
This game wasn't deterministic and didn't have perfect information, so I wasted the first 5 days trying to build a search using several different algorithms. The more I replaced searches with heuristics, the stronger my bot got. Congrats to anyone who placed well with a true search.