So I have the silver boss about to drop a green 2/2 block at column 4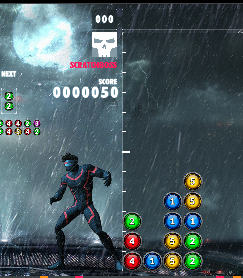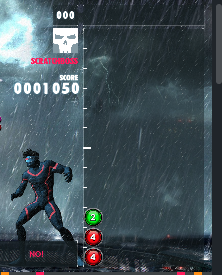 He scores 1000 points, how is this calculated?
The blocks collapse 4 greens, then 4 yellows, then 4 blues
From the instructions I get
B = 4, different colours=3 so CB = 4, The Chain is 3 so CP=16, Group bonus=? not 100% on this but if it is all the blocks of which there are 12 this scores GB=8 Total score B10(CB+CP+GB) which is 1120, but he scored 1000 which implies GB should have been 9 blocks, which scores 5
What am I doing wrong?
Next: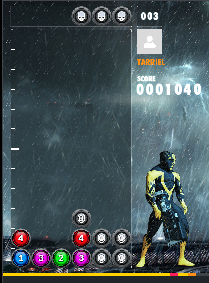 I have just dropped the pink 3 and blue 1 and also scored 1000, the cascade I think was 4 blue, along with 3 skulls, 4 green, along with 1 skull, 4 pink, along with 3 skulls. It says that the skulls are like colours except dropping and clearing them, so
B=7, The Chain is 3 so CP=16, different colours=4 so CB = 8, Group bonus=? guessing at 19 which scores GB=8, for a total of 2240, turning the dropped skulls to my advantage but that isn't the score I got, infact GB can be 0 and I still score 1680, so I need to ignore the white stones and come up with the same as before?
But then…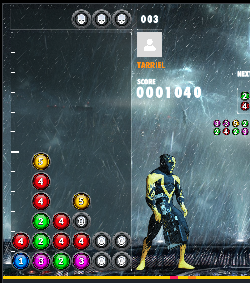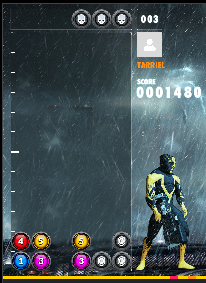 scores 440 points, which I get B=8,CP=8(2 steps), CB=4(red,green,white), GB=8 scores 1600,
so ignoring the skulls, and letting GB=0, I still get B=6,CP=8(2 steps),CB=2 (Red,green) which is a score of 600 and I only got 440
Clearly I am doing something wrong. Can someone please explain how the scoring actually works, as I am finally at a place where this is starting to matter. There is a big difference in game state with a score of 440 and 1600