Hello,
Following the rework of the pages "puzzles" and "AI", the page of pending contributions is now under the tab "community". There also you can find the contributions you've made and the panel to create new ones.
We've decided to give the rights of moderation to more CodinGamers. Indeed we find it a shame that there are so many pending contributions. The handful of moderators couldn't keep up with the pace of created contributions, knowing that checking one takes quite some time to be done correctly.
From now on, any CodinGamer who is above level 24 has the right to accept/refuse/edit a pending contribution. CodinGuardians have also moderation rights. Editing validated contributions remains a right that only CG staff has (for now).
Here's the opportunity to remind everyone how moderation of contributions works:
a puzzle or CoC is definitely approved/refused once three moderators have approved/refused it

once a contribution is validated, it appears with the other validated puzzles. If it is refused, it will appear only on the panel "my contributions" of the author.

moderators have an additional button once they open the contribution with the three options approve/refuse/edit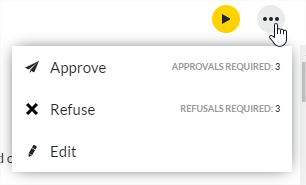 We're currently working on creating a list with codinguardians of things to check before accepting a contribution, and I'll add it here once it's finished. meanwhile you can get inspired by the criteria of Bob:
We have still working on some tweaks to make the life of a moderator better, I'll keep you updated.